The
8th
International Conference on the Scientific and Clinical Applications of Magnetic Carriers
took place in
Rostock, Germany from May 25-29, 2010
in the Kursaal Warnemünde (
map
) and was again a full success. We had 370 participants from 43 countries!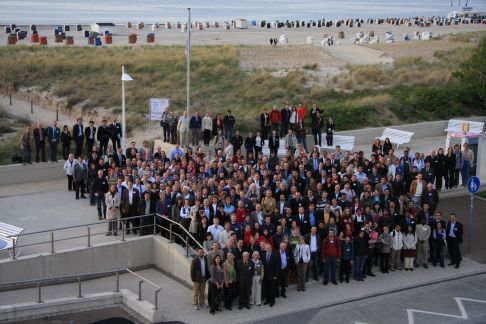 If you would like to get the group picture in high resolution, then please click here. Loading of this large picture will take quite a while!
The final program is available HERE:
Furthermore, a large number of posters was presented at the meeting.
Please check them out HERE:
And if you are interested, you can also download the Abstract Booklet here.
Topics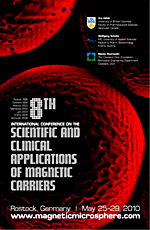 Printable Version (PDF)
Scientific Applications:
Preparation and Modification of Magnetic Particles
Characterization of Magnetic Particles
Application in Cell Separation and Analysis
Applications in Molecular Biology
Clinical Applications:
Cancer Treatment
Hyperthermia
Magnetic Resonance Contrast Enhancement
Drug Delivery
Nanotechnology Applications:
Micromechanical Systems (MEMS)
Magnetic nanotubes
Self-assembled magnetic nanosystems
Organized By

Wolfgang Schütt
Krems, Austria

Urs Häfeli
Vancouver, Canada


Maciej Zborowski
Cleveland, Ohio, U.S.A.
Contact Us
Urs Hafeli
info@magneticmicrosphere.com
Last Modified: June 10, 2012 - Magneticmicrosphere.com © 2018