Third Meeting
3rd International Conference on the Scientific and Clinical
Applications of Magnetic Carriers
May 3 – 6, 2000
Rostock, Germany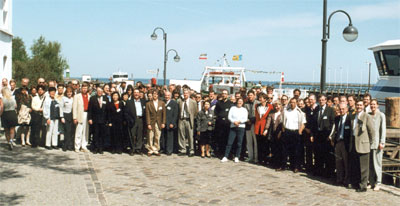 Participants from the 2000 meeting. Click here for more pictures.
Topics
Scientific Applications:
Preparation and Modification of Magnetic Particles
Characterization of Magnetic Particles
Application in Cell Separation and Analysis
Applications in Molecular Biology
Clinical Applications:
Cancer Treatment
Hyperthermia
Magnetic Resonance Contrast Enhancement a.o.
Organized By
Institute for Applied Biosciences
Wolfgang Schütt, Cordula Grüttner
Rostock, Germany
Cleveland Clinic Foundation
Urs Häfeli, Maciej Zborowski
Cleveland, U.S.A.
Last Modified: June 10, 2012 - Magneticmicrosphere.com © 2018