11th International Conference on the Scientific and Clinical Applications of Magnetic Carriers
May 31 - June 4, 2016 | Vancouver, Canada
The 11th International Conference on the Scientific and Clinical Applications of Magnetic Carriers took place in Vancouver, Canada from May 31 - June 4, 2016 and was like always a great week full of new magnetic particle results, discussions and applications. Everybody had a great time in Vancouver, Canada, especially during the reception underneath the 26 m long whale skeleton or during our boat ride.
The special issue in the Journal of Magnetism and Magnetic Materials is available now. And JMMM just received an excellent impact factor of 2.630. The special JMMM issue contains 58 articles with novel research. If you want to buy a hardcopy - we have them on sale right now for CAN $30 plus $20 shipping. For more information, check it out here.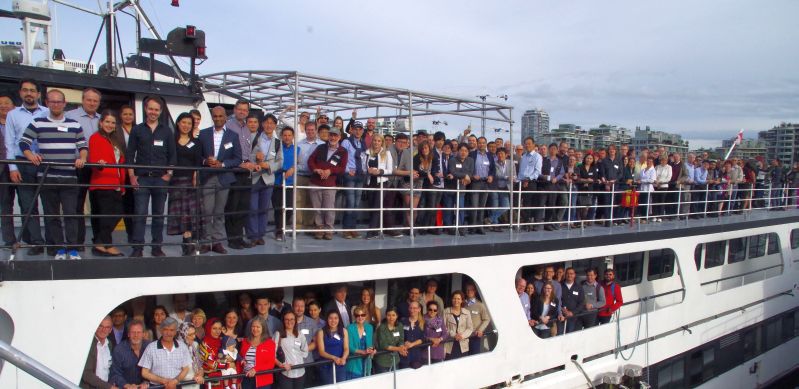 And here in a little slide show of the place where Magmeet 2016 took place. Vancouver and UBC are simply beautiful!
And here are some pictures from the meeting. Check them out in full size by clicking on them.
Topics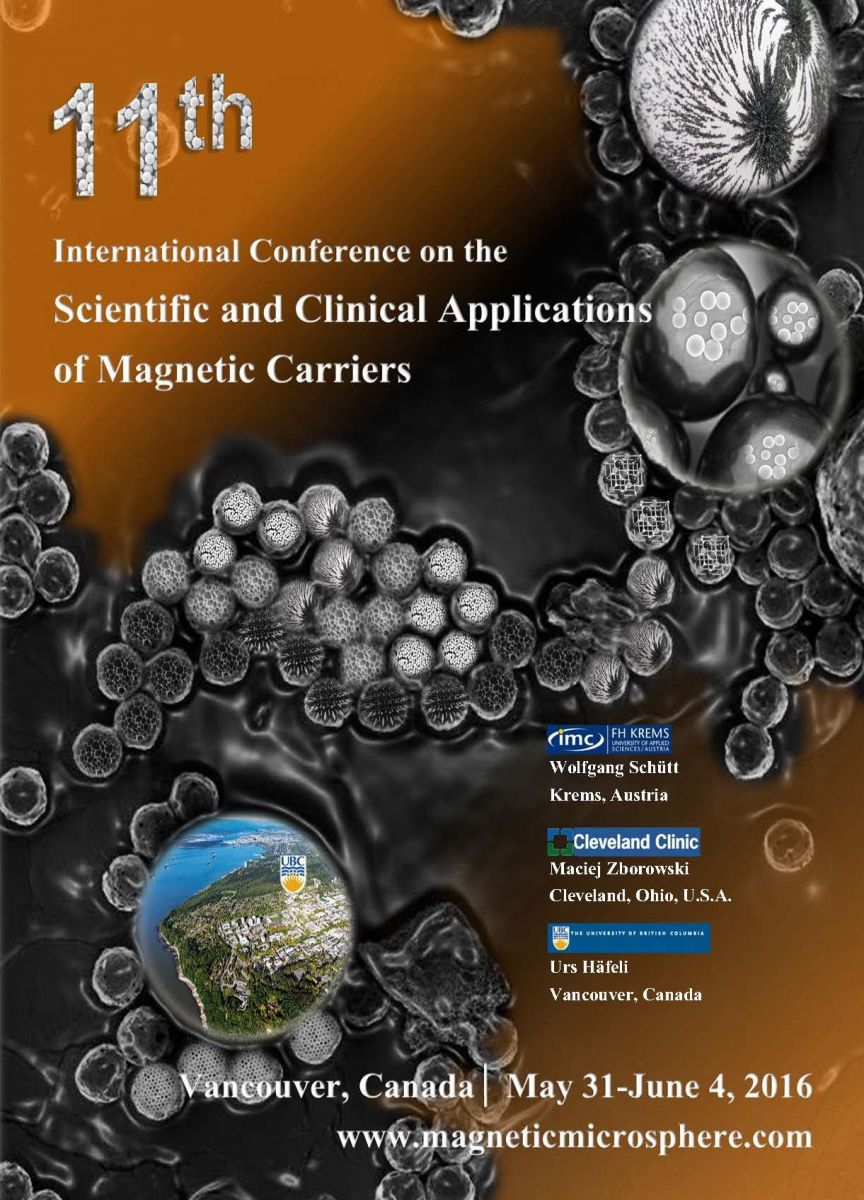 Scientific Applications:
Preparation and Modification of Magnetic Particles
Characterization of Magnetic Particles
Application in Cell Separation and Analysis
Applications in Molecular Biology
Clinical Applications:
Cancer Treatment
Hyperthermia
Magnetic Resonance Contrast Enhancement
Drug Delivery
Nanotechnology Applications:
Micromechanical Systems (MEMS)
Magnetic nanotubes
Self-assembled magnetic nanosystems
Proceedings
After every "Magnetic Carrier Meeting", we publish peer reviewed articles in a special journal issue that contains the most-up-to date research in our area.
The

deadline for the submission

of these full papers is two weeks after the meeting, on Sunday at midnight,

June 26, 2016

.
For this year's 11th meeting, we will publishing our original research with the "Journal of Magnetism and Magnetic Materials" (JMMM) , as we did many times previously. This journal is well indexed and you can find your papers with search engines such as SciFinder, Google Scholar and other indexing services.
JMMM has an impact factor of IF = 1.97 (2014)
---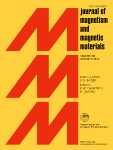 - We recommend an article size of not more than 6 pages. But if you have lots of interesting results to report, then we would like to hear about all of it and it can be longer.
- Best of all, all your figures can be in colour throughout for the online version.
- Submission is all electronic through the link below, which will become life on April 4, 2016. Please start working early on your manuscript, as the Deadline is Sunday, June 26, 2016, no exceptions. Papers will be sent out for peer review the day following your submission.

You can read more about the format of the articles here in the author's guide. However, it might even be more useful to look at a few examples of recently published JMMM articles such as Deng 2014, Digigow 2014 or Aravind 2013.
A step by step procedure to submit your article is given here.
In addition:
Use full first names, not abbreviations.
A concise and factual abstract is required with 50-200 words. The abstract should state briefly the purpose of the research, the principal results and major conclusions. An abstract is often presented separately from the article, so it must be able to stand alone. For this reason, references and abbreviations should be avoided.
Provide up to 6 keywords
Organized By
Contact Us
Please contact
Urs Hafeli
at
urs.hafeli@ubc.ca
for more information.
Last Modified: June 22, 2017 - Magneticmicrosphere.com © 2018