Accommodations

The following accommodations are on campus, just 2 minutes by foot from the conference location. Book your room immediately. If you have any problems with payment or finding a room, please contact reservations@housing.ubc.ca or call the toll free number 1-888-822-1030 and mention that you are part of the Magnetic Carrier Meeting.
West Coast Suite: Our best accomodation, these one bedroom suites with kitchen sleep up to 4 people. The price is $199/night.
Standard Suites: Completely new this year, these studio suites at the Pond Residence sleep up to 2 people and also have a kitchen. The price is $129/night.
Premium Single Rooms: Also completely new at the Pond Residence, these private single bedrooms are $62/night. Common lounge, kitchen and 2 bathrooms are shared with 3 other guests.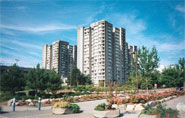 Standard Single Room at Gage Towers:
Budget accommodations located on campus. These single bedrooms sleep one person and the common lounge and 2 bathrooms are shared with 5 other guests. Price is $49/person.
High speed internet is available free of charge and can be accessed wireless. On-site laundry is also available.
A detailed information sheet about check-in, parking and other policies at Gage Towers and West Coast Suites is available here.
And if you want to know where you are on campus, check out this map. The talks will be in "the Nest" and on Saturday at the "Pharmacy building". The reception will be in the "Beaty Biodiversity Museum".

---
Nearby wonderful B&B's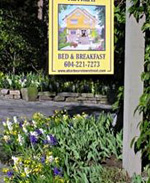 There are some Bread and Breakfast in Point Grey, not too far away:
For more information about accommodations in Vancouver, please check out:
Last Modified: May 04, 2016 - Magneticmicrosphere.com © 2018