Invited Talks
Peter Hore, Ph.D.
Professor, Department of Chemistry,
University of Oxford, U.K.
Disruption of magnetic compass orientation in migratory birds by radiofrequency electromagnetic fields
Dr. Peter Hore's group investigates migratory birds that make epic journeys of thousands of kilometers each year, navigating with the help of Earth's magnetic field. Yet the mechanism behind the biological compass that enables them to achieve this astonishing feat remains a mystery. Dr. Hore is a leading proponent of the idea that this magnetic sense depends on chemical reactions involving excited radicals produced in a protein in the birds' retinas.
Dr. Hore's website is http://hore.chem.ox.ac.uk/.
---
Anna Roig, Ph.D.
Institut de Ciencia de Materials de Barcelona, ICMAB-CSIC
Group of Nanoparticles and Nanocomposites, Barcelona, Spain
Magnetic Nanocapsules for Brain Repair after a Stroke
Dr. Roig's group focuses on the controlled and rational synthesis of inorganic and hybrid (inorganic-organic) nanoparticles and nanocomposites and the study of their structural-functional properties. Even more important to them are applications in the fields of nanomedicine and the information technology. In this invited talk, Anna will speak about their newest endeavour into cell-free therapy for neurorepair. They encapsulate full cell-secretomes into magnetic and fluorescent polymer capsules and observe their grafting into the brain.
Dr. Roig's website can be seen here.
---
CheolGi Kim, Ph.D.
Center for Bio-convergence Spin System, DGIST, Daegu, Korea
Integrated Magnetophoretic Platform for Precise Manipulation of Bio-Functionalized Matters and Living Cells
Dr. Kim developed a lab-on-a-chip (LOC) magnetophoretic system for the remotely controllable transport of magnetic particles actuated by thin permalloy magnetic tracks. This novel architecture composed of radii and spiral tracks resembles a spider web network. This allows the effective collection of low-density biomolecule carriers to one specific point and monitors the accumulated carriers. The developed novel technology could affect multiple fields, including bioassays, cell manipulation and separation and biomechanics.
For more info, see here.
---
Maria del Puerto Morales, Ph.D.
Department of Biomaterials and Bioinspired Materials of the Institute of Material Science in Madrid (CSIC), Spain
Colloidal Flower-Shaped Iron Oxide Nanoparticles
Dr. Morales research activities are focused on the area of nanotechnology, in particular in the synthesis and characterization of magnetic nanoparticles for biomedicine. She will tell us all about the very special properties and applications of her newest creations, the flower-shaped magnetic particles.
For more info, see here.
---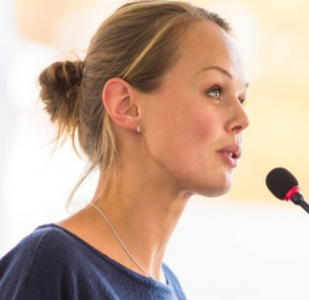 XXX, Ph.D.
From a Famous or Not So Famous Place
Anything Magnetic - Interesting
and New
If you have an idea for an invited speaker, please don't hesitate to e-mail urs.hafeli@ubc.ca with your suggestion. Thanks a lot for your help!
---
Last Modified: October 13, 2017 - Magneticmicrosphere.com © 2017